"We are pleased to share with you the gender pay gap data for Zenith. This reflects the pay received by male and female employees of Zenith in the pay period including 5 April 2017 (the 'snapshot date'). This report sets out the results and insights we have gained from this analysis, and the measures which we are taking as an organisation to address the representation of women, and overall diversity, in our business."
Marisa Waddington, HR Director
Equal Pay
The gender pay gap calculation is an equality measure to show the difference in the average earnings between women and men. It is not a comparison of pay between equivalent roles. Zenith are committed to providing equal pay for equal work. Our pay policies and practice are designed to address any unconscious bias, particularly at recruitment.A gender pay gap typically arises due to the employee demographics in an organisation, for example where there is an unequal distribution of men and women across the organisation. This report sets out the reasons we have identified for our gender pay gap and the actions which we are taking to address them.
Statutory disclosures – Zenith Vehicle Contracts Limited
Zenith has a number of employing legal entities. Of these, one company has more than 250 employees: Zenith Vehicle Contracts Limited – 385 employees. Under the regulations we are required to report our gender pay gap for this entity, as set out below.
Gender pay gap
Gender pay gap
24.4%
18.0%
Bonus pay gap
32.2%
25.4%
Proportion of employees receiving a bonus payment
65.3%
53.7%
* The mean is the average of all the numbers in the dataset i.e. adding all the relevant pay figures and then dividing by the total amount of relevant employees.
** The median is the numerical value which splits the top 50% of the population from the bottom 50%. This is calculated by listing all of the values in numerical order; if there is an odd number of values, the median is the number in the middle; if there is an even number of values, the median is the mean of the two central numbers.
Proportion of men and women in each pay quartile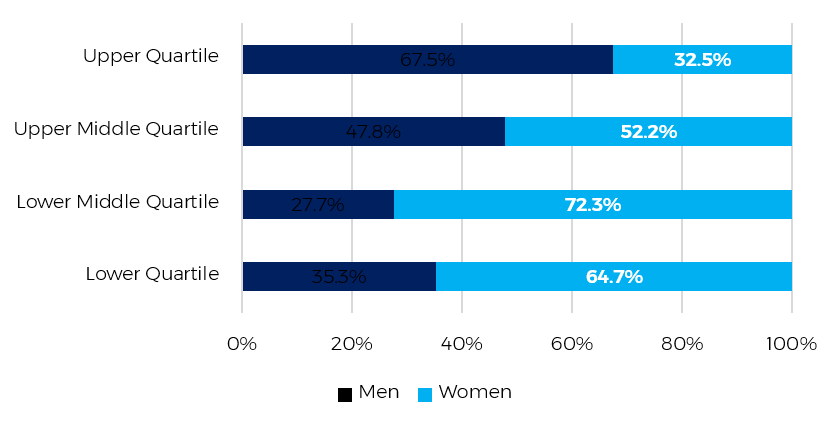 Analysis
These headline figures show that we have a gender pay gap in terms of hourly pay and in bonus payments. Our industry is traditionally male dominated which creates imbalance in gender and pay. The gap is partly driven by demographic factors where there are more men in senior management positions than women. Roles which are eligible for commission create a further impact, we are confident our roles and opportunities for commission are available to men and women equally.
In response to this we have introduced a number of initiatives including:
50:50 target for recruitment of our apprenticeship and graduate programmes
Offering a wide range of flexible working arrangements to support a diverse workforce
Leadership and mentoring programmes focused on senior females
Declaration
The calculations, data and assertions contained in this announcement are accurate for Zenith Vehicle Contracts Limited and apply the methodology provided in The Equality Act 2010 (Gender Pay Gap Information) Regulations 2017.
Marisa Waddington, HR Director
Driving performance

Supporting diversity in leadership – the best people at the best place to work
At Zenith we are committed to focusing on diversity and are addressing this in a number of ways. We recognise that the industry in which we operate can be male dominated and that our current demographics reflect this.
We are confident that our Achieving Potential Leadership Programme has begun to redress the gender balance at senior levels in the Group. We also recognise that it is essential to establish and protect a pipeline for future talent, to achieve longer term trends of balance and diversity and provide a clear career progression path for our employees.
To support a more diverse future workforce we have put the following measures in place:
50:50 gender targets for recruitment onto apprenticeships and graduate programmes
4 of 7 graduates recruited in 2017 were female
3 of 6 apprentices recruited in 2017 were female
Mentoring programme provided to managers, including external coaching.
Twice as many women received promotions in 2017 as men
For the future, additional measures to be put in place to support this process are:
Improved parental policies including enhancements to maternity and paternity pay, from 1 April 2018
Improved policies for managing employees returning to work after leave, to support their transition back into the business
Our culture and working environment
Across the Group we have implemented a number of initiatives to support different patterns of working, recognising the need for flexibility in the workplace to support a diverse workforce. These include:
Agile working, part-time working, job share, compressed working weeks and homeworking