Sector news
The UK EV market is no longer an early adopter of EVs and is now entering a new phase, as SMMT predict it is anticipated to reach 18% of market share of new vehicle sales by the end of 2023.
Indeed, in EY's latest Country Readiness Index the UK ranked as the fifth best prepared market in the world for EV transition, using factors such as supply, demand and regulation, coming in behind, China, Norway the USA and Sweden.
of car drivers have opted to order a BEV from Zenith in the last 12 months.
UK & EU GOVERNMENT POLICY UPDATES
Prime Minister Rishi Sunak announced the Government's decision to delay the ban of new petrol and diesel car and vans by five years until 2035. His reasoning behind the delay was to "give us more time to prepare."
This brings the UK into line with the EU's timetable in what is a truly globalised supply chain and whilst there were mixed reactions from across the industry, outside of the van sector which faces some headwinds in the EV transition, the announcement itself has done little to change the ambitions of fleet operators.
The ZEV mandate
Shortly after the 2035 announcement, government released the ZEV mandate, which ultimately drives vehicle availability, and comes into effect from January 2024. The finalised proportion of new vehicle sales that are required to be EV are set out below. For comparison the SMT reported that 20% of all new car and van sales in August 2023 were EV.
New electric vehicle sales required by 2035
2024
2025
2026
2027
2028
2029
2030
2031
2032
2033
2034
2035
Cars
22%
28%
33%
38%
52%
66%
80%
84%
88%
92%
96%
100%
Vans
10%
16%
24%
34%
46%
58%
70%
76%
82%
88%
94%
100%
In other news from the EU, ministers are supporting less stringent rules for Euro 7 regulations with emissions limits and test conditions for cars and vans being carried over from Euro 6. Limits for heavy-duty vehicles will be lowered and test conditions slightly adjusted.
Whilst the proposal replaces and simplifies previously separate emission rules for cars and vans (Euro 6) and lorries and buses (Euro VI) the expansion to limit particulate emissions from brakes and tyres, for all powertrains, received unanimous support from the EU Council. Ministers also supported new rules to regulate the durability of batteries installed in electrified cars and vans in order to increase confidence in electric vehicles, addressing the top consumer fear in switching to BEVs.
Charging Ecosystem developments
New data from Zapmap shows the number of ultra-rapid charge points has increased by 68% over the last year.
The Public Charge Point Regulations currently going through the legislative process include an alignment to the power rating bandings. The chart below shows the number of devices split by these new bandings. As of September 2023, the total number of rapid and ultra-rapid charge points was 9,209 across 4,809 different locations.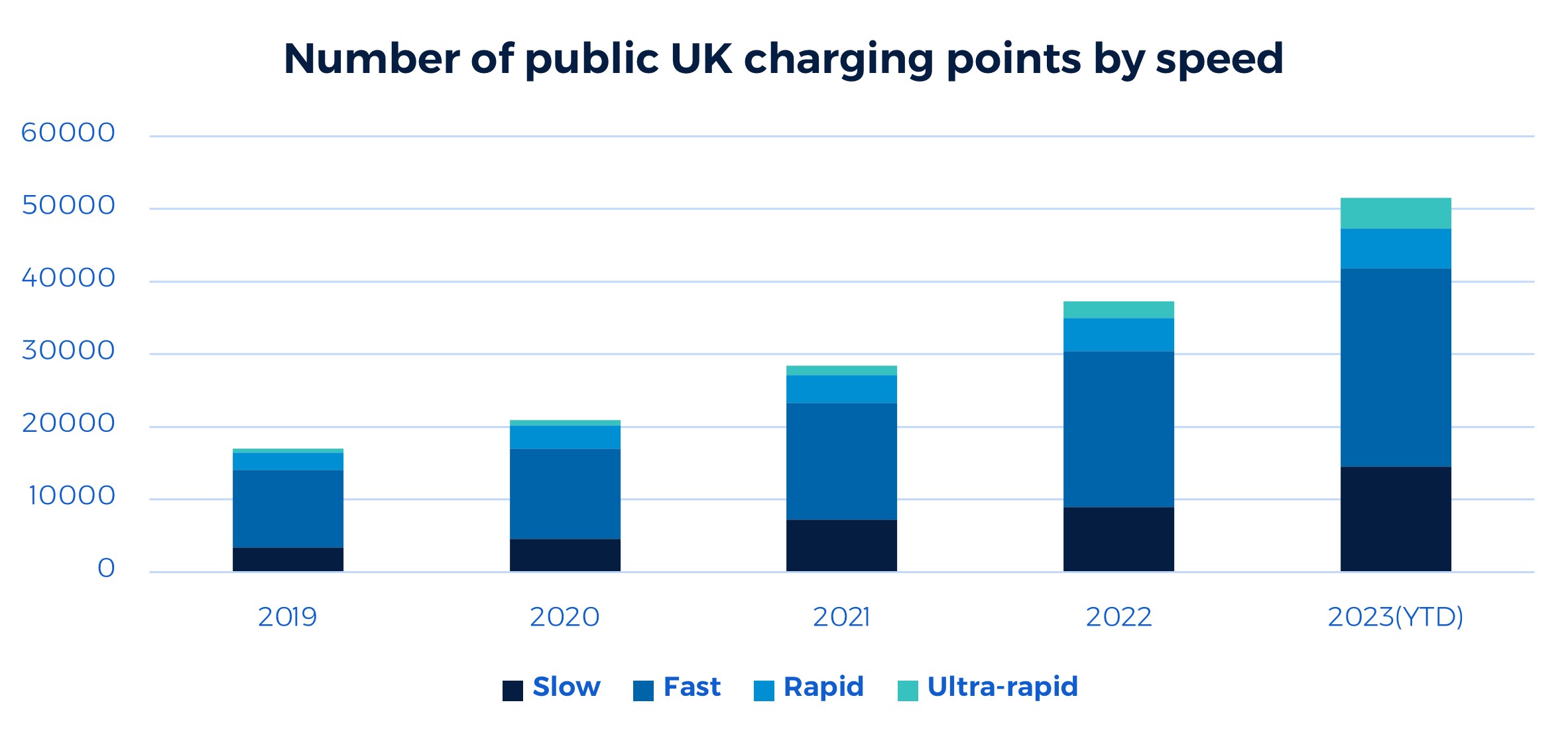 'With the charging infrastructure considered one of the main barriers to EV adoption by some consumers, it's encouraging to see the growth and investment in the rapid and ultra-rapid charging network across the country. Whilst there is still work to be done in this area, it's a step in the right direction and along with the new public charging regulations, should help to increase consumer confidence in making the switch to EV'
Danielle Fearon, fleet consultant
GOVERNMENT'S NEW LONG-TERM PLANS TO BACK DRIVERS
Transport Secretary Mark Harper recently announced a series of 30 measures to support drivers. This includes making parking easier, measures to keep traffic moving, reducing over-run on roadworks as well as widening eligibility for EV charge point grants to include cross pavement solutions for those without off-street parking.
With more than 40 million licenced vehicles in the UK, the government is keen to push back on 'anti-car measures' and plans to review guidance on areas such as 20mph speed limits in England, which have already been introduced in Wales, and also in Low Traffic Neighbourhoods.
A welcome announcement for drivers across the country when it comes to parking, will be the national rollout of the parking platform pilot. Aimed at simplifying parking payments, drivers will now have the option to select an app of their choosing when paying for parking, instead of having to download multiple apps.