The Government has introduced a number of brand-new rules and amendments to existing guidance which came into force at the end of January.
As well as buying The Highway Code physically, you can keep up-to-date with what's changed by visiting the Government website.
Here's an overview of some of the changes…
The Hierarchy of road users
A new structure the 'hierarchy of road users' has also been introduced. This three-tiered approach helps keep those who are at most risk of collisions safe.
Rule H1 aims to make drivers of vehicles that can cause the greatest harm more responsible for the safety of more vulnerable users, such as cyclists, pedestrians and horse riders. This principle strongly applies to drivers of large goods and passenger vehicles, vans/minibuses, cars/taxis and motorcycles.
It's also made clear that cyclists and horse riders have a duty of care towards pedestrians too, and that every single road user must ensure their own safety as well as that of others.
Rule H2 highlights more protection and priority for pedestrians. Under this new instruction, drivers and motorcyclists must give way to pedestrians crossing or waiting to cross a road, into which, or from which you are turning.
You must give way to pedestrians on a zebra crossing, and to pedestrians and cyclists on a parallel crossing. This rule also includes guidance on zebra crossings, shared use cycle tracks and the pavement, which must only be used by pedestrians.
Rule H3 covers new guidance for drivers and motorcyclists to give priority to cyclists, horse riders and horse-drawn vehicles going ahead when you are turning into or out of a junction or changing direction or lane.
The rule applies whether a cyclist is using a dedicated cycle lane or track, too.
It also outlines how drivers and motorcyclists shouldn't turn at a junction if, by doing so, they would cause a cyclist to stop or swerve. Drivers are advised to wait for a suitable gap in these slower forms of traffic before turning.
Parking, charging and leaving vehicles
Have you heard of the 'Dutch Reach'? Now featured in The Highway Code, it's a technique that where drivers and passengers each use their far hand to open the car door. This movement means that your body turns, making it easier to look in your mirrors and windows for people walking past, cyclists and motorcyclists.
Good news if you're an electric vehicle (EV) driver – The Highway Code now includes EV guidance for the first time. To reduce the risk of danger when charging, you should park close to the EV charge point you're using and avoid creating a trip hazard from trailing cables. If you have the option to, display a warning sign.
After you've finished charging, return the charging cables neatly to avoid creating a hazard for pedestrians and other road users.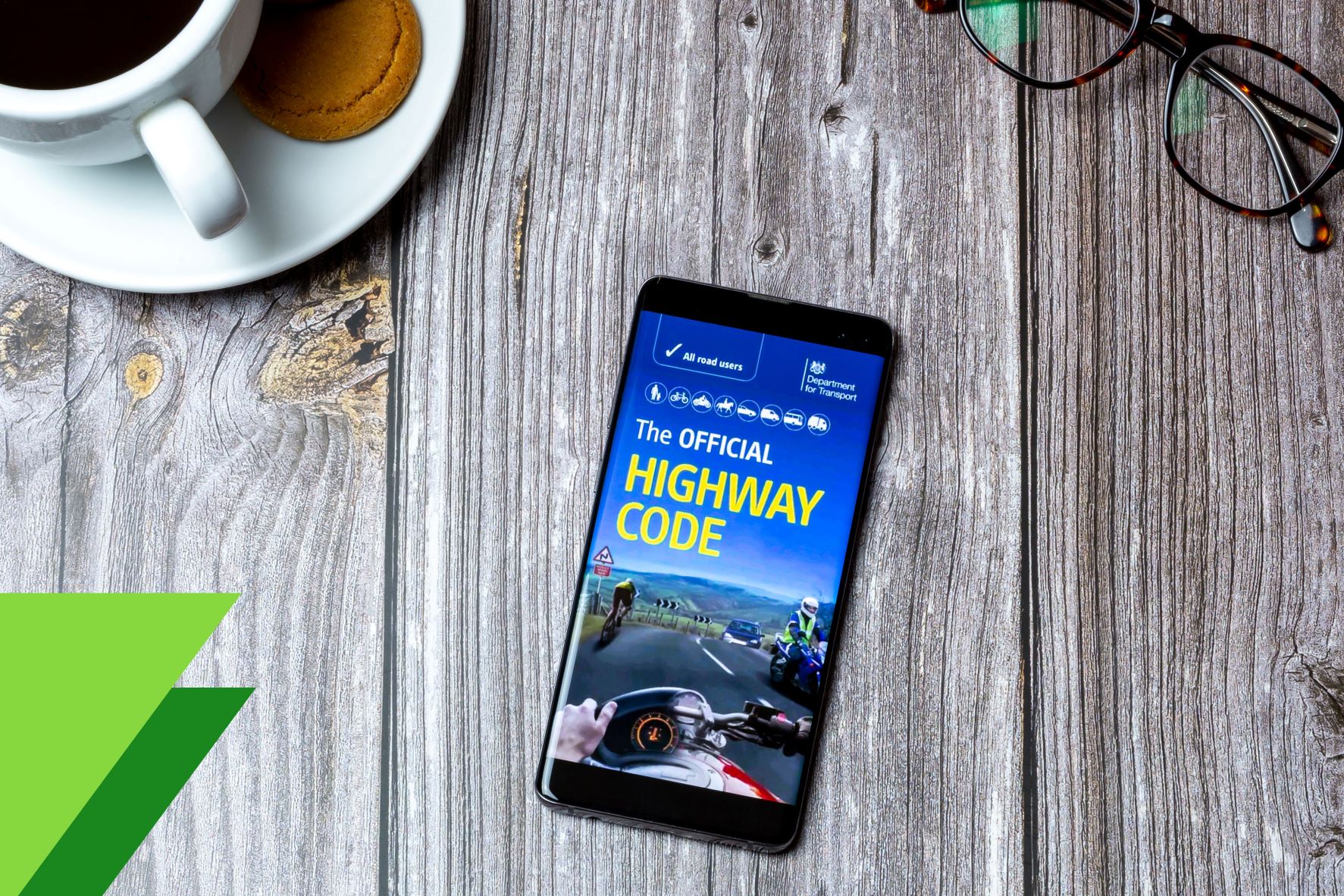 Overtaking
Rule 163 in The Highway Code gives guidance for overtaking, including leaving enough space to the vehicle you're overtaking, ensuring you signal and take extra care at night and in poor visibility when it is harder to judge speed and distance.
The new guidance details overtaking distances. You should leave at least 1.5 metres when overtaking cyclists at speeds of up to 30mph, pass horse riders and horse-drawn vehicles at speeds under 10 mph and allow at least 2 metres of space and keep to a low speed when passing a pedestrian who is walking in the road.
Don't forget, if it isn't safe to overtake – wait until you have enough space to do so. The Code also includes a reminder that driving requires focus and attention at all times.
Read more about overtaking rules:
Pedestrians crossing at junctions
There have been several changes to existing rules to clarify that people have priority and traffic should give way. This includes:
people crossing or waiting to cross at a junction or if people have already started crossing and traffic is turning into the road
people driving, riding a motorcycle or cycling must give way to people on a zebra crossing and walking or cycling on a parallel crossing.
At a parallel crossing, you should look out for pedestrians or cyclists waiting to cross and slow down or stop, allowing more time in icy or wet conditions. Be patient – don't wave, sound your horn, flash your lights or rev your engine.
Read more:
Walking, cycling or riding in shared spaces
This guidance covers spaces shared by pedestrians, horse riders and cyclists. If you're walking, cyclists, horse riders and drivers of horse drawn vehicles, drivers should respect your safety. You should, however, take care not to obstruct them.
Cyclists should not pass those using the shared spaces at high speed and not pass a horse on the left. Remember to always be prepared to slow down if you need to.
Read more:
Cycling, your positioning in the road and junctions
As part of the changes, the Code now explains that on narrow sections of road, quiet roads or streets, at road junctions and in slower-moving traffic, cyclists and horse riders may sometimes ride in the centre of the lane, rather than towards the side of the road. On busy roads, cyclists should keep at least 0.5 metres away from the kerb edge (and further where it is safer).
Cyclists should watch out for obstructions in the road and ensure they can move to avoid them safely and are advised to ride at least a door's width or 1 metre from parked cars.
There is also new advice about special cycle facilities at some junctions and people driving or riding a motorcycle should give priority to people cycling on roundabouts. Give them plenty of room and do not attempt to overtake them within their lane.
Vehicle maintenance
In addition to taking special care that lights, brakes, steering, exhaust system, seat belts, demisters, wipers and washers are all working, the guidance now includes checking any audible warning systems.
For commercial vehicles, The Highway Code states that all aspects of the daily walkaround checks as recommended by the DVSA and the Fleet Operator Recognition Scheme must be undertaken.